BELIEVE IN YOURSELF
"Tragedy strikes when success dies in failure, hope dies in despair, and visions die in the absence of confidence"-Dr. Myles Munroe.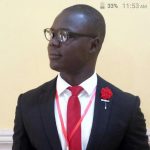 You can excel in life. Successful believe in and capitalize on their abilities, while unsuccessful people do not. You may be thinking that you cannot achieve specific grades, cannot understand some topics, or cannot learn a skill. However, you will be surprised at how many people have come from the other side of failure to success. When I was in primary school, my class girls were at the top for more than three years. We thought the girls were better than us because they were from fairly well-to-do families. But something interesting happened when my friend and I challenged ourselves to improve our grades. We decided to aim for the top positions in the class, although the girls were not aware of this challenge. The following term, my friend took the first position while I came third. I learned that in the quest to succeed, you would be competing against yourself first.
As an African proverb says, "If there is no enemy within, the enemy without can do us no harm". In this case, the enemy within is the negative voice telling you that you cannot make it. There could also be people around you who consistently make you feel that you have nothing to offer in life. It sucks when your teacher tells you that you are a terrible student or when your brother or sister tells you that you should forget about singing or doing any other thing. You have to believe in yourself even if others do not. Try seeing negative comments about you as a challenge that you have to overcome to succeed. 
Let's say you are struggling with Mathematics, for example. You can choose to believe whether you want to become better or not. You can challenge yourself to ensure that you go for extra lessons, ask questions, and work with other students to become better. But first, there has to be that belief in you. If you don't believe that you can succeed, you never will, as no one becomes successful by accident. Remind yourself from time to time that you are qualified to excel, and you will be motivated to pursue your dreams. You will be amazed at what you can accomplish.
Start believing in yourself and make yourself relevant in the world.
I hope to hear your thoughts on your questions and comments in the section below.
ABOUT THE AUTHOR
Henry Ibrahim is the Content Creator at B2SL. He loves working with young people to help them discover their purpose in life. You can contact him at ibrahim@b2sl.org.