[vc_row][vc_column width="2/3″][vc_column_text css=".vc_custom_1591007391995{margin-bottom: 0px !important;}"]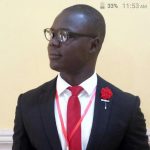 "You don't have to beat everybody to be excellent, that is competition. You just need to give your best till there is nothing left to give"
Excellence is performing at your highest level. It means that you're going beyond what's expected of what you or others are doing. Excellence is not just doing better than others, but the gradual result of always striving to do better than your best if you can. Your average grade may be 80%, 85%, 90%, or the highest in your class, but being excellent demands that you ask yourself if that is all you can achieve?
To achieve excellence, you must do everything you can to be the best version of yourself daily. The pursuit of excellence cannot be a one-off action; it must be a journey that calls for the investment of time and sustained attention on not only what you're doing correctly, but also what you are doing incorrectly. You don't have to beat everybody to be excellent, that is competition. You just need to give your best till there is nothing left to give.
The road to excellence is always under construction. You may be talented at anything, but talent alone does not lead to excellence, you need to also be consistent, hardworking, and diligent. Aristotle and other philosophers postulated that "excellence is not an act: rather, it is a habit that develops into a way of life – the lifestyle – of the individual." So, anytime your teacher marks your assignment, test, or exam papers and makes comments on how you have improved significantly from your last performance, you mustn't relent because you have started your journey to excellence.
Everyone can perform excellently in what he/she does. Booker T. Washington said, "Excellence is to do a common thing in an uncommon way." This means that you can strive for excellence in seemingly little tasks like washing dishes, going on errands, as well as working on your school assignments. When you are pursuing excellence, everything you do will be affected, even if it is sweeping the floor!
Excellence comes with a price, the price of dedication, hard work, and diligence. No wonder Angela Duckworth reminds us that there are no shortcuts to true excellence. Malcolm Gladwell popularized the research that shows it takes an average of 10,000 hours of practice to achieve excellence. Wow! That means doing, doing, and doing again.
So, what are you doing now? How often and how long do you do it? Are you putting in your best? Ask yourself if you are headed to average, good, best, or excellence. If you will not settle for anything less than your best, you will be amazed at what you can accomplish in your life. So why not go for it?
[/vc_column_text][/vc_column][vc_column width="1/3″][/vc_column][/vc_row]