BELIEVING DURING DIFFICULTIES
"It's kind of fun to do the impossible." – Walter Disney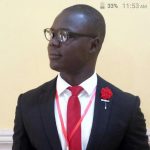 It is appropriate that we talk about belief as we begin the second month of this still brand-new year. Perhaps you must have made some decisions and resolutions in the first month, so believing through whatever it may take you to accomplish those goals is what will help you achieve those goals. Be assured that there is no chance, no destiny, no fate that can hinder the firm resolve of a determined soul.
Believing is the act of accepting something as truth. It is conditioning your mind to agree with the possibility of something. In the process of working on your dreams, you will incur a lot of disappointments, a lot of failures, a lot of pains, setbacks, defeat. All you need to do is continue to believe and set your eyes on what you want to achieve or be. Don't even allow someone's opinion of you to become your reality. The expression of belief in your dream is the only life you can give to it. You cannot accomplish any worthwhile endeavor with ease. There will undoubtedly be many reasons to stop dreaming and believing in yourself and what you can do. Still, history has proven that such moments are usually indicators of how close you have come to the manifestation of your dream. 
You might have resolved to up your grade or master a course that gives you trouble. In following through with this commitment, you may eventually find out that you don't have good textbooks, missed some classes, or still may not understand what the teachers teach. The instinct here is usually to back out and consider an alternative. But remember, life itself does not give us what we want or need, but what we deserve. Do you have the courage to demand from life the destiny you deserve? That can only be possible if you truly believe that what you deserve must surely come to reality someday and with the required effort put in place. 
 Walter Disney lost his job for not being creative enough. However, he never stopped believing in himself and his dreams. Walter found the Walter Disney company, a multinational media conglomerate. He once said: "All the adversity I have had in my life, all my troubles and obstacles, have strengthened me. You may not realize it, but a kick in the teeth may be the best thing in the world for you". 
My dear friends, keep believing and acting on your dream. All you need is time. I hope to hear inspiring stories from you on how you handled difficult times that might've threatened your plan and goals for life. 
ABOUT THE AUTHOR
Henry Ibrahim is the Content Creator at B2SL. He loves working with young people to help them discover their purpose in life. You can contact him at Ibrahim@b2sl.org.